Arbores
Margot Metcalfe
October 16 to November 22, 2008
Opening Reception: Wednesday, October 15, 2008, 5:00 p.m. to 8:00 p.m.
Artist Talk: Thursday, November 6 at 6:30 p.m.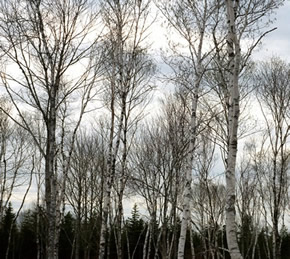 Birches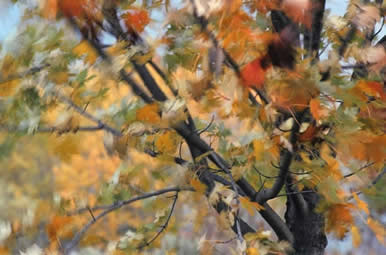 Feather Tree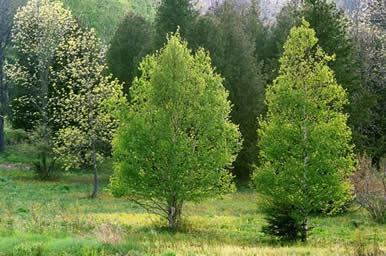 Spring
Bio
"I love the moment of making a photograph. For me it is a moment of quietness, of presence, of breath."
Margot Metcalfe is an award-winning photographer who was born in Nova Scotia and who lives in Halifax. Her works are in private collections internationally, and in several permanent public collections including the Canada Council Art Bank, Art Gallery of Nova Scotia, the Nova Scotia Art Bank, the Atlantic School of Theology, and the Mary Black Gallery. She exhibits nationally. She has been the recipient of grants from the Canada Council for the Arts and Nova Scotia Culture and Tourism. Her work has appeared in many publications and on book covers. She leads photography and creativity workshops. The book Arts and the Spirit, published in 2007, contains her essay "Photography and Spirituality."
Curatorial Statement
Margot Metcalfe's Arbores is a splendid and appropriate first exhibition for the Atlantic School of Theology's new Visual Arts Program. According to the first chapter of Genesis, trees were fashioned on the sixth day of creation, right after the forming of human beings. In the older story of Genesis 2, trees are part of a garden prepared by God in anticipation of humankind. And in Genesis 3 we find the much referenced story of the 'tree of life' and the 'tree of the knowledge of good and evil.' However we understand these stories, a common thread is the meaningful role of trees in the development and sustenance of human life.
There are diverse avenues of meaning in Metcalfe's work as well. Clearly, the aesthetic value of trees has caught her imagination. Images created by selecting rather than arranging compositions, these photographs remind us of snapshots: specific moments in space and time neatly abstracted from the vast array of possibilities. It is as if time itself is captured for the spectator, creating an opportunity to enter into the stillness of the particular moment.
In this stillness we sense the possibility of depth. Not depth in the physical sense, or its artistically contrived illusion, but rather spiritual depth, the kind for which our modern souls yearn. Metcalfe's images are not escapist; they are celebrations of the ordinary, representing the daily sights of everyday life we overlook on our way to somewhere else. Her images beg us to pause, to take a break from the hustle and bustle and enter more deeply into the contemplative quiet of a specific moment. For the artist, as for the sensitive viewer, the aesthetic object, thus presented, becomes a conduit for spiritual experience. Through the image we are led to the place where the aesthetic and the spiritual merge. This convergence is what Thomas Merton calls le point vierge, the point at which all things reduce to a single instant; an experience other writers have called the 'eternal now.'
Drawing from sources as diverse as Christian hymns and Sufi poets, Metcalfe employs trees as a leitmotif for the relationship between diversity and commonality. Upon closer inspection, single trees or parts of trees reveal diverse shapes and colours while clusters of trees suggest a dynamic relationship between the individual and the group. We may see ourselves in these trees, for we, too, are the same but different, alone and yet part of a community. Metcalfe's images remind us of the tension between harmony and cacophony as we struggle to make sense of our place in society.
There is also simple beauty in these trees. Given the climate of most academic art these days, Margot Metcalfe makes a bold move by choosing to underscore beauty in her work. But perhaps our post-modern sensibility, irrespective of its shortcomings, has readied us to look once more at beauty in art with an open mind. Furthermore, in the present state of our fractured world, beauty can provide a common avenue of healing. If so, Metcalfe's images also speak to the moral dimension of aesthetics — one more indication of the many links between theology and contemporary art that are here exposed.
Regina Coupar
Exhibitions Director, AST Art Gallery