Chance and Circumstance
Abstract paintings by Barbara McLean
Opening Reception March 23, 5 to 7:30 pm
Show runs March 24 to May 21, 2010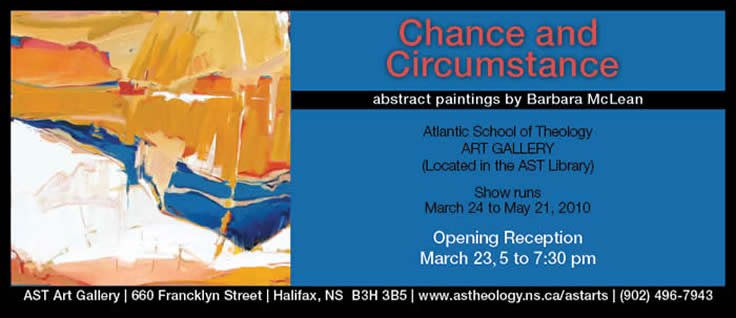 Curatorial Statement
Beginning with a prepared toned or coloured surface, Barbara McLean makes large sweeping gestures with paint across her canvas, taking the kind of chance that is inspired by intuition alone. Without allowing self-doubt or intellectual evaluation processes to interrupt her work, she continues in this vein as if participating in an impromptu dance until she 'feels' she has gone far enough. She then pulls back, allowing her partner, the painting she has thus far created, to continue solo as she watches. The watching may take hours or even days as she focuses her attention on the painting, waiting for the appropriate time to respond.
Abstract art, in the manner of McLean, is grounded in trust. It is an expressive outcome of the artist's willingness to take a chance. Without knowing what will be the result of her efforts, she makes bold marks on a clean canvas, creating for herself a set of circumstances to which she must respond. But not just for herself. The art process becomes an unspoken dialectic between the artist and the artwork. Suspending disbelief, as an actor on a stage, the artist enters into the 'world' being created through the art process in which she is engaged. There is give and take as the artist and her art work together to solve problems of colour and balance, content and form. The painting is 'finished' when the artist's intuition tells her she can do nothing more. It is then displayed for the spectator, its meaning to be negotiated by another dialectic: this time between the artist, the artwork and the spectator.
So what has all this to do with theology? Why show this work in this place? Barbara's art, while not explicitly intended as theological, presents for us an opportunity for theological reflection. We might, for example, compare her painting process to the creation story of Genesis 1, understanding the creation more deeply as a collaborative process involving both God and the world. Like the strokes in a painting, each day of creation builds upon the previous one, each necessary for the final result which may be, as some theologians suggest, yet unknown.
Taking our reflection further into a Christian context, we can think of the completion of such an artwork in connection with the final words of the crucified Christ, "It is finished." While the artist may finish applying paint to her canvas, what the paint becomes on the canvas, that is, the artwork, is never exhausted of meaning as long as there are spectators to view it.
Likewise, new dimensions of the Christian story unfold in history beyond the physical death of Jesus of Nazareth: meaning is thus continually negotiated for and by each successive generation. As in the case of an artwork, not all may agree upon a given interpretation. But agreement is not the primary aim of theological reflection. Rather, as the abstract paintings in this exhibition can serve to remind us, the richness of religious meaning transcends all interpretations and is exhausted for us only by the limitations of our imaginations.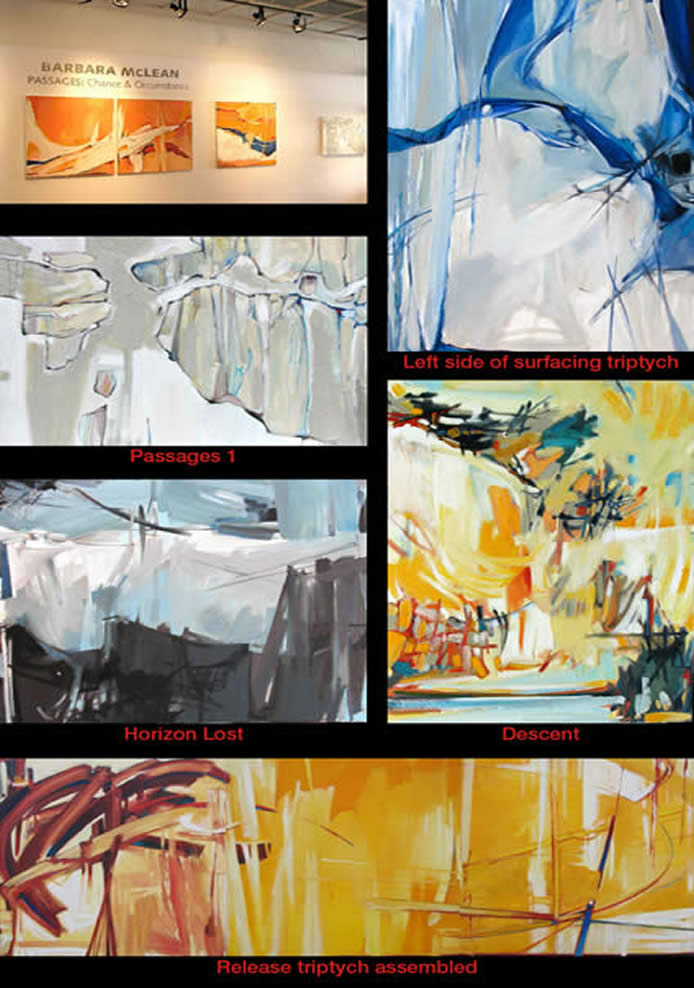 Artist's Statement
The abstract works in this exhibition are dedicated to the exploration of Chance and Circumstance. Along side broad airy spaces there often lurk mysterious entrances partially hidden or darkened. Although a sense of mystery is part of what I wish to convey, that mystery is realized spontaneously. I abandon any urge to pre-plan. My intent is to discover structure rather than to impose it. By moving quickly, making gestural marks the unexpected occurs and frequently becomes a key element in the painting. It is an exhilarating way to work, however an incomplete one. A very necessary and more introspective assessment follows initial serendipitous discoveries. The often brash marks are mediated by thoughtfully applied layers that reinforce and refine the initial mark-making. This follow up brings a contemplative aspect to the pieces that I feel finishes them.
In essence, these paintings are about trust: trust in the human desire to look beyond the familiar, a trust in one's ability to meet the unknown and ultimately, trust and faith in life itself. I find real joy in approaching painting in such an unregulated way. It is my hope that the viewer too will be engaged by the canvases in this exhibition, canvases developed in part through chance and circumstance.
Artist's Profile
Barbara Mclean graduated from Sheridan Collage (graphic design) and more recently from NSCAD University (BFA major in fine art) She has been a member of Peer Gallery Lunenburg for several years and also exhibits work at Art Sales and Rental Gallery in Halifax and Harvest Gallery in Wolfville.
Solo Exhibitions
2010, April, Atlantic School of Theology, Chance and Circumstance
2010, April, Art Sales and Rental, Barbara McLean, Abstract Landscapes
2009, September, Craig Gallery Dartmouth, Passages
2009, May, Peer Gallery, Lunenburg, Describing Landscape
2007, Peer Gallery, Intrinsic Worth: seeing the forest for the trees
Barbara is one of the artists featured in the recently launched book Land and Sea, Landscape Painters of Nova Scotia. She is also the South Shore representative for Visual Arts Nova Scotia.