Transformation
Works by Sattler's Stained Glass Studio
Sattler's Stained Glass Studio takes fine art glass to another level.
Working in collaboration with different artists, Sattler's Stained Glass Studio uses glass as a medium to enhance public and ecclesiastical spaces.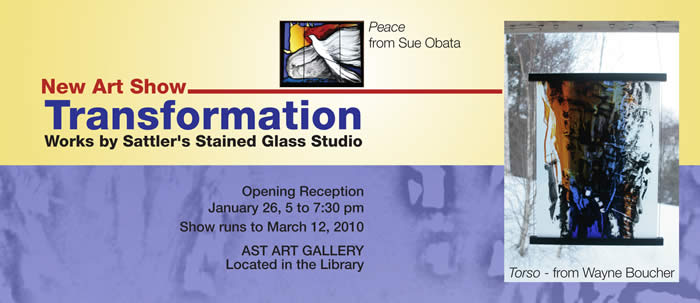 Artist Talk by Norbert Sattler: March 4, 6 to 7:30 pm
List of Artists:
Ohotaq Mikkigak, Cape Dorset
Anita Rist Geiger, Germany
Craig Rubadoux, NS
Diether Domes, Germany
Kavavaow Mannomee, Cape Dorset
Hubert Distler, Germany
Kenojuak Ashewak, Cape Dorset
Prod. Georg Bernhad, Germany
Prof. Juergen Reipka, Germany
Richard Mueller, NS
Sr. Nicole Oblinger OSF, Germany
Sue Obata , ON
Wayne Boucher, NS
Curatorial Statement
Historically, churches and stained glass seem a marriage made in heaven. No one can dispute the sheer
beauty of medieval glass works such as those found in the Chartres Cathedral just south of Paris. As a
major architectural component of the building, the majestic windows channel light into coloured shapes
of theological significance. It is this art form which sets the background for Transformation.
After extensive training and apprenticeship (in Germany) in the art of traditional stained glass, followed
by a successful studio operation there, Norbert Sattler and his wife Helga moved to Nova Scotia, where
together they built Sattler's Stained Glass Studio, an impressive operation overlooking the LaHave
River, just outside Bridgewater. An expert in the creation and restoration of traditional stained glass
windows (including the recent restoration of the windows of St. John's Anglican Church in Lunenburg),
Norbert's passion for his medium takes him past its expressions in history.
Transformation is an example of Norbert's vision of glass as a medium for contemporary fine art. It is a
selection of works created at the Sattler Studio as collaborative projects between Norbert and various
contemporary artists. Uniting technical expertise and contemporary imagery, these works stand in
contrast to the somewhat formulaic works of conventional leaded glass church windows of earlier
times. Such new works move beyond their historical antecedents, adding a new dimension: they are
expressive of our time, provoking us to consider the changes in both art and theology since medieval
times.
The language of art is not properly compared to verbal discourse; it is of a different sort altogether. For
the viewer, visual art speaks first through feeling, which is only later processed by intellectual
reflection. Each art medium can be understood as a different 'art language' capable of expressing
feeling in its own distinctive way. Norbert Sattler appears to understand this concept deeply. Often
working with artists whose first visual language is not glass, he generously offers his insights and
expertise, helping them to create works that are not merely translations of their primary media, but
transformations containing nuances made possible only by glass.
Stretching the limits of his medium as he works with individual artists, Norbert remains respectful of
the traditional materials and methods of his trade. For him, each project is unique: his task is to assist
artists in the communication of their vision through a medium that is often unfamiliar for them. Using
light as a primary tool, Norbert pushes the envelope, employing and inventing techniques as necessary
to bring the artist's vision to life. His medium, more properly called 'art glass' than 'stained glass',
provides a bridge for contemporary artists who seek to create religious imagery for contemporary
theologies.
The works in this exhibition are pioneering. For the church, they offer inspiration as we explore new
possibilities for imagery that reflects contemporary theology for our sacred spaces. These works of art
in glass combine the best from our past with the finest of contemporary insights, showing how we can
evolve the imagery of our tradition for the more broadly ecumenical world in which we find ourselves.
- Regina Coupar, Exhibitions Director
Atlantic School of Theology Art Gallery