Current Exhibitions
AST Participates in Photopolis
Show Extended to November 7!
If you like photography, October is a great month to be in Halifax. This is the fifth year for Photopolis (see www.photopolis.ca ), a month-long, city-wide celebration of photography featuring exhibits by local, national and international photographers. And this year, the gallery space at the AST Library is one of the venues! When you visit the AST Library this October, take the time to enjoy "Houses of Worship," an exhibition presented by Ottawa photographer Mark Schacter.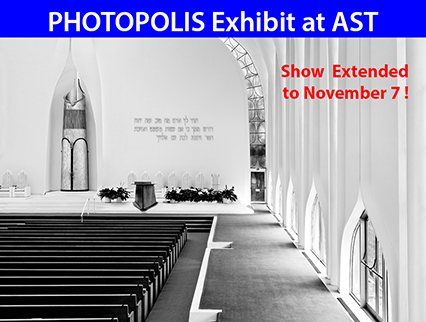 Houses of Worship
An Exhibition of photographs by Mark Schacter
October 9-31, 2014 Show extended to November 7!
AST Art Gallery (located in the library)
624 Francklyn Street
Halifax, NS
The gallery is open during library hours


About the Exhibition
Faith is as invisible as it is mysterious, but a photographer can still point a camera at tangible, if indirect, signs of its existence. Houses of worship are the visible accompaniment of the ethereal phenomenon. These photographs are a study–in bricks, clapboard, shingles, concrete and steel–of evidence of religious faith throughout North America. Presented by Ottawa photographer Mark Schacter, the photographs are a selection from a larger collection published as Houses of Worship (Fifth House Publishers, 2013).


Artist Talk
Mark Schacter will be on campus for an artist talk!
Monday, October 27
12:15 to 1:15 p.m.
AST Library


About the Photographer
Visit Mark Schacter's website for more information about this talented photographer!
As always, we appreciate your support of arts initiatives at the Atlantic School of Theology.