Honourary Degree Recipient 2022
William (Bill) Black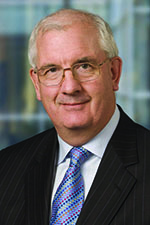 A leading member of the Halifax business community, Mr. Black has combined a successful business career with a strong commitment to service, his faith, and his family.
He graduated from Dalhousie University (B.A., B.Sc. 1970) and completed his actuarial training (FSA, FCIA) in 1974. He worked with Maritime Life for 34 years, rising to the office of President and CEO in 1995. In his nine years as President, the Company grew organically and through four successful acquisitions to a company with 3,000 employees and $15 billion in assets under management. Under his leadership, Maritime Life had a strong commitment to both customers and employees. It gained a strong reputation for employee relations – appearing every year among the leaders in the Report on Business list of top 50 employers in Canada.
In 2008 he chaired the panel reviewing pension legislation and regulation in the Province of Nova Scotia. He served on many other boards including seven years on the Bank of Canada Board of which four were as lead director.
Bill's contributions to the community include serving on many not-for-profit boards. He was chairman of the Halifax Chamber of Commerce, the IWK Hospital, and Symphony Nova Scotia.
In 2015 he was inducted as a Member of the Order of Canada.
More recently, Mr. Black has served as a member of AST's President's Council since 2018.
Mr. Black has lived of all of his 71 years in Halifax with his wife, children and grandchildren. He has taught Sunday School for 35 years and is a long serving lay reader at All Saints Cathedral and St. John's church in Lunenburg.