Library Campaign June 2020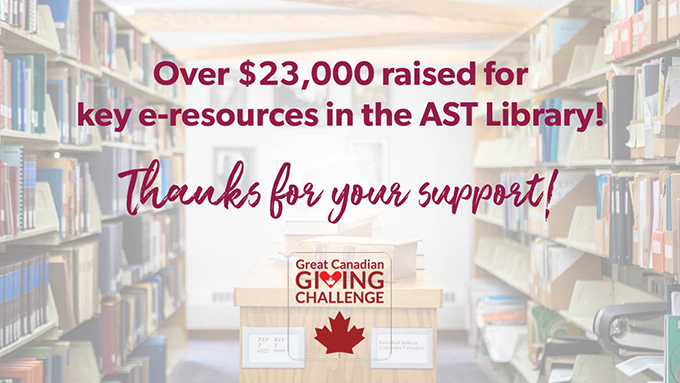 Throughout the month of June 2020, AST participated in the Great Canadian Giving Challenge. Our donors helped us raise over $23,000 for key e-resources in our library. Thank you to Pine Hill Divinity Hall for generously matching gifts up to $10,000. Thanks to our faculty for leading the charge for this campaign. And thanks to all who participated!
Together, we helped the AST Library protect access to key resources for theological research in the current year and build our e-book collection for online learning going forward.
We salute all of our donors - your support means the world to us!


Greg Aikins

Maryn Anderson

AST Faculty Association (ASTFA)

Ross Bartlett

John and Lorraine Baxter

Jane Baxter

Neale Bennet

Jill Brogan

Debra Burleson

Pix Butt

Barbara Cairns

Jody Clarke

William Close

Trudy Colpitts

Jocelyn Cook

Michelle Cormier

Jessica Crabtree

David Csinos

Davena Davis

David Deane

Laurence DeWolfe

Daniel Driver

JoCarol Driver

Daniel Driver

Louisa Duck

Sarah Emsley

Alyda Faber

Kim Falls

Rob Fennell

Janice Frame

Gail Fricker

Liz Galsworthy

Natasha Gerolami

Susan Girard

Alain Godbout

Rosemary Godin

Ivan Gregan

Joan Griffin

Rick Gunn

Lawrence Hale

Elizabeth Harper

April Hart

Lawrence Hayes

David Heckerl

Heather Hemming

Kelly Herd

Doug & Faye Hergett

Tammy Hodge

Anne Hoganson

Lee Ann Hogle

Paul Jennings

Robert Johnson

Beth Johnston

Ivan Khovacs

Peggy Lamey

Carol Lavallee

David LeBlanc

Karen LeBlanc

Robert Lockhartr

Barbara MacAlpine

Susan MacAlpine-Gillis

Michael MacDonald

Iain Macdonald

Rosalind MacDonald

Catherine MacDonald

Iain Macdonald

Charlene MacKnight

David & Jane MacLachlan

Brian MacMillan

Carolin MacMillan

Barbara MacNaughton

Karan Manuel

Rachel Martin

Kassandra Matthews

Janet McCormick

Leslie McLean

Alison Miculan

Linda Moxsom-Skinner

Brenda Munro

Don Murray

Chris O'Hara

Lorraine Otto

Maria Pacurar

Kevin Parks

Natasha Pearen

David Peer

Mavis Peddie Peters

Pine Hill Divinity Hall

Karen Pitt

Stephanie Potter

Richard L Rankin

Jane Reid

Donna Reindorf

Michelle Robichaud

Lawrence Roche

Martin Rumscheidt

Eileen Schuller

Dinah Simmons

Catherine Simpson

Susan Slater

Terry Slaunwhite

Arthur Smith

Jack & Donna Spencer

Harriet Staples

Ronald Stevenson

Mary Taylor

Ross Thompson

Lynn Uzans

Lorene Whitman

Susan Willhauck

Joanne Williams

Joe Young