How to read call numbers in an academic library
Libraries use classification systems to organize items on the shelves. A classification system, such as the Library of Congress Classification System (LC), uses letters and/or numbers (call numbers) to arrange items of the same topic together.
Anatomy of a Library of Congress Call Number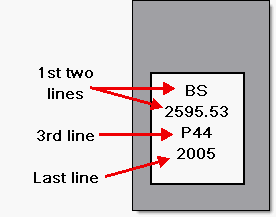 Book title: The Gospel according to Luke.
Author: Michael F. Patella.
Call number: BS 2595.53 P44 2005
The first two lines describe the subject of the book.
Bible. N.T. Luke -- Commentaries.
The third line often represents the author's last name.
The last line usually represents the date of publication.
Tips for Finding Books on the Shelf
Read call numbers line by line. Consider the call number "BS 2595.53 P44 2005 ".
BS
Read the first line in alphabetical order: A, B, BF, BS, BX, C, D...
2595.53
Read the second line as a number (sometimes with decimal extensions), eg.: 1, 2, 3, 100, 1000, 2000, 2595.53, 2595.54, 2596...
If number has a decimal extension, read the decimals one digit at a time, eg.: .53 reads as "five, three" and not "fifty-three."
P44 (sometimes written as .p44)
The third line is a combination of a letter and numbers. Read the letter alphabetically and read the number as a decimal extension, that is, one digit at a time, eg.: .P433, .P44, .P5... ("four, four" comes before "five").
2005
The last line is usually a date. Read in chronological order: 1985, 1991, 1992, 2005, 2006...
Here is a shelf of books with the call number order explained.