Welcome US Students!
Atlantic School of Theology, nestled on the shoreline of the Atlantic Ocean in Nova Scotia, Canada, is ready to receive you as our newest student! We are an ecumenical, degree-granting public university, and our graduate programs in theology are fully accredited by the Association of Theological Schools of the United States and Canada. With a strong faculty and a robust on-campus and online curriculum, we're confident that your experience of theological education here will be one that you will find enjoyable, challenging, and transformative.
In addition to the pages in this section, we invite you to explore our website, including these helpful references:
---
Meet US student Cariassa Rodriguez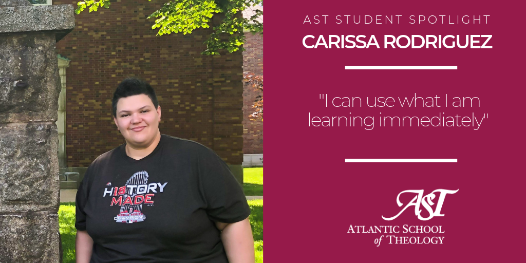 Name: Carissa Rodriguez
Denomination: United Church of Christ
Program: Summer MDiv Distance
Hometown: Worcester MA
Anticipated graduation date: 2024
What brought you to AST?
I was at a UCC conference event, where Dave Csinos, an AST professor, was the keynote speaker. I enjoyed what he had to say during his presentation. I checked out AST's booth at the event for more information.
After I had all the information I needed and had spoken with Susan MacAlpine-Gillis, I planned a trip to visit the campus. From the faculty to the admin staff, everyone at AST was very helpful during my visit. After my visit, I sent my application in and here I am!
What makes you passionate about the program you're taking?
I like that I get to learn as well as work in the field. I can use what I am learning immediately rather than waiting to implement it.
I also enjoy that it's a new place for me; I've never been to Canada so living here in Halifax for six weeks during the summer is amazing.
Was attending a theology school always in your plans/tell me about your journey getting here?
Since I was 17, this has always been in my plans. I thought I would follow the traditional track, with 4 years undergrad right out of high school, followed by grad school, and ordination by the time I was 30. Many factors led to this not happening, but it was always in my plans. Everything has always worked out for the best in my journey towards ministry thus far, and I'm excited to be studying here now.
Outside of university, what are your interests?
I enjoy spending time with my family and live with my parents, brothers, and sisters. We have a full house, so a lot is going on. In my downtime, I like to watch movies and tv, listen to music, and drive.
---
Our Recruitment Coordinator, Lydia Hood, is available to answer any questions you may have and to help guide you through our applications process. See our Administration and Staff page for more contacts in our Academic Department.
Lydia Hood
Email: lydia.hood@astheology.ns.ca
Phone: 902-430-7662